Call Or Write For a Free Quote
Weed control for Municipalities
Professional E-Therm weed burners for municipalities
We have a wide selection of weed burners, specially developed for weed control and disinfection in municipal areas, parks, gardens, sidewalks and similar outdoor areas. The width ranges from 0.5 to 1.2 metres and the machine can be mounted on any type of tool carrier or tractor.
Our product range includes a special E-Therm series designed for municipalities. These are made to reduce the use of propane gas and CO₂ emissions.
Professional weed burners
ENVO-DAN's E-Therm programme is developed with specific consideration of the working environment.
Partly because the noise reduction is so efficient that several municipalities have asked to get an indicator mounted that can show that the weed burner is running because the noise from the tool carrier drowns out  the sound from the low noise burner.
In addition, the weed burner is designed for front mounting, which ensures that the driver does not need to constantly look over his shoulder.
ENVO-DAN's E-Therm burners use 40 percent less propane gas and thereby also 40 percent less CO2, which ensures that the driver is not exposed to exact amounts of CO2 as on previously known burners.
ET 500 and ET 700
ET 500 and ET 700 are ENVO-DANs smallest professional weed burners. With only 50 and 70 centimetres, ET 500 and ET 700 are especially suited for weeding between gravel paths and grass areas, as well as they can be used in combination as shown below.
Both ET 500 and ET 700 can be mounted on any kind of tool carrier.
ET 1000
ET 1000 is a good standard weed burner, which is available from 1 metre to 1.2 metres width.
It can enter difficult places due to its high flexibility and exactly therefore ET 1000 is one of ENVO-DANs most popular professional weed burners when it comes to Municipalities.
ET 500/1000 combi
This is a good and very flexible machine, where the two burners can be used separately or together when it is needed.
When weeding between gravel paths and grass areas, you can settle with ET 500, while the combined version is good for larger areas and paths.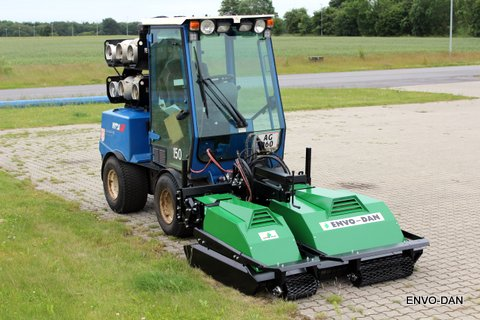 Our brochure weed
burners for Municipialities
Read more about the advantages of our
E-Therm professional weed burners for municipalities.
ENVO-DAN professional weed burners
Based on our many years of experience with the construction and manufacturing of professional weed burners, we have developed a new generation of machines with a focus on high energy efficiency and low CO2 emissions.
Advantages of our professional weed burners:
Energy efficiency– average reduction of gas consumption: -40%
Also used for disinfection and drying on roads, paths, farms, municipalities and parks.
Propane consumption: 6 kg/hour
Working speed: approx. 4 km/hour
Working width: 50/100 cm (or according to customer demands)